History of Corrugated Boxes
The more people learn about corrugated boxes, the more they realize that there is nothing "basic" about them. With every box made up of three sheets of paper, the combinations are limitless. But don't worry... that is what we are here for. We've tried to make this page informative with easy to digest information that will get you up to speed on the basics of corrugated cardboard.
Cardboard Box Types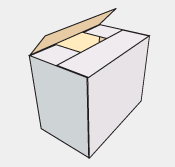 Regular Slotted Containers
This is the most common box style. All flaps are the same length from the score to the edge. Ideal for: shipping small individual items such as cups and mugs, books.
Corrugated Trays
Corrugated Trays are basically trays to hold other objects. They are advantageous when product visibility and easy handling are of prime importance. Ideal for: food and beverage industry products such as bottled water, soft drinks, snack foods, and bulk packaged processed foods.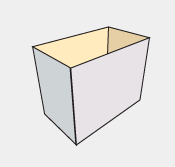 Half Slotted Containers
Half slotted containers are similar to regular slotted containers except that they have only one set of flaps. The opposite side of the box is open, which allows it to slide over an item. Ideal for: large and heavy objects such as refrigerators and washing machines.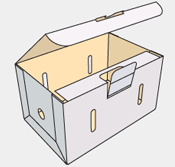 Die Cut Custom
These are custom corrugated boxes developed to exact specifications depending on customer requirements. Boxmaster can manufacture custom boxes with FULL color, available in all styles and custom sizes. Ideal for: unique products with special requirements such as cosmetic product boxes, toy product boxes, gift product boxes.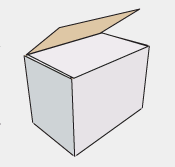 Full Over Lap
The outer flaps overlap the full width of the box making it especially resistant to rough handling. All flaps are the same depth, and their depth equals the width of the box. Ideal for: heavy objects that require extra support such as refrigerators and washing machines.
Roll End Tuck Top
These are simple unglued boxes that need to be folded when assembled. These are great for shipping narrow items. Ideal for: vitamin packaging, retail packaging, coffee packaging, tea packaging.
Types of Printing Methods
Printing Method
Description
Advantages
Flexo Line
The most basic type of printing on corrugated.
Allows the addition of company or package content info to the surface of the box, at a relatively low cost. Graphics tend to be basic line art and text, utilizing between 1 and 3 colours.
Flexo Process
Used for higher end graphics utilizing the 4 process colours. It provides a stronger visual impact, and enables photo quality images to be used.
Because 4 colour print plates are required, the total print plate costs tend to be more expensive than Flexo Line. Minimum run quantities tend to be much higher than Flexo line.
Flood Coated
Allows the use of a solid 100% coverage of colour. Most commonly used with POP displays and packaging for retail applications.
Flood coats can be applied with stock print plates, so die costs are not an expense for the client.
Label Laminate
Achieved by gluing printed sheets to the outer surface of the corrugated material. Enables the application of a glossy process colour (photo quality) image, and is a reasonable cost option for low to medium quantity runs. Label size is limited by the maximum sheet size of most commercial presses (28" x 40").
It provides a clean professional appearance that looks comparable to high end packaging similar to that used with software and electronics. Labels can be applied as a 100% coverage, or as a spot label in conjunction with other Flexo line printing.
Screen Print
Another way of applying graphic intensive images directly to the outer surface of the corrugated package.
This process is most commonly used for POP displays and retail packaging applications, and can be more cost effective is short run quantities. Size limitations are larger than label laminate, and colour combinations greater than 4 are possible.
Litho Laminate
Provides a similar finished product as label laminate, but requires much higher minimum runs (typically 10-20K).
The printed surface is actually part of the packaging material, as opposed to label laminate which is added manually.
Preprint
Providing a similar finished product to Flexo process, this process involves the client purchasing pre printed rolls of paper that are used in manufacturing linerboard.
It requires very high volume runs, and a significant upfront investment by the client, but can be a cost effective way to apply impactful graphics at those quantities. Most commonly used in the food and beverage industry, like beer cases and mandarin orange boxes.
Corrugated Board Strength
Board strength are all the factors that define how strong the box should be. There are a number of questions you must ask yourself before you can accurately asses how strong a particular box should be manufactured to be such as:
The nature of the products being packaged
The total weight of the box
The size of the box
How the cardboard box will be stacked, stored, and transported.
Boxmaster provides you with two different levels of customization options when selecting box strength. The first is the flute type and the second is using the edge crush test.
Corrugated Box Flute Types
Corrugated Flutes are the S shaped waves/arches of a corrugated box that makes up the board. This is called the boards corrugation. Flutes are essentially the reinforcement that make up the board. They run parallel to the depth of the container and give it its rigidity and crushing/stacking strength. As well as providing stacking strength, flutes also provide insulation that protects products from sudden temperature changes. Generally speaking, larger flutes like A & B profile provide greater strength and cushioning, while smaller flute profiles like D & E provide better printability and foldability.
B flutes have 42-50 flutes per foot and are 1/8″ thick. They provide the second highest arch size.
B flutes provide good stacking strength and crushing resistance. Ideally used for canned goods and displays.
C flutes have 39-43 flutes per foot and are 11/64″ thick. They are the medium between A flute and B flute and are very common.
C flutes provide good cushioning, stacking and printing properties. Ideally used for glass, furniture and dairy.
E flutes have 94 flutes per foot and are 1/16″ thick. The board profile is super-thin which in turn reduces box size and saves store space.
E flutes provide the greatest crush resistance and a super printing surface which make it an excellent choice for die-cut custom boxes.
Corrugated Box Construction
Boxmaster provides you with the option of choosing between single and double-wall cardboard construction.
Single Wall is the most common corrugation material - it simply consists of 1 layer of whatever flute type you choose. Under normal circumstances, single wall construction will be sufficient as they are offered from 23ECT to 44ECT.
Double Wall construction, also known as 'heavy duty' corrugation material is used for heavy or large objects. A Double wall consists of 2 layers of flutes, usually 1 layer of B and 1 layer of C. They are around 35% stronger than the regular single wall corrugation type. Boxmaster offers double wall cardboard boxes from 44ECT to 61 ECT.
Flute Types
Flutes/Foot
Thickness
Advantages
B Flute
42 -50
1/8"
Good cushioning, stacking & printing
C Flute
39-43
11/64"
Good stacking, strength & crushing resistance
E Flute
94
1/16"
Greatest crush resistance & printing surface
BC Flute
Double Wall
Very Thick
Can hold very large & heavy items
Edge Crush Test
The Edge Crush Test is simply a method used to determine the "stacking" or "crushing" of a piece of corrugated board. The test is conducted to determine the force that will crush a containerboard standing on an edge. The ECT will determine the probable compression strength of the container made from the board.
Types of Construction
Edge Crush Test
Maximum Suggested Load Limit (lbs)